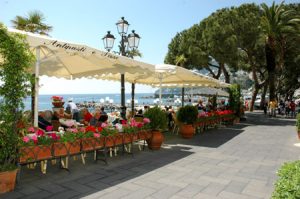 The Gran Caffé, Amalfi is owned and operated by my cousin Salvatore Dipino and his brothers. Stop by and say hello, and enjoy a breathtaking view and delicious food and drink. Have a light meal or snacks and drinks on the terrace overlooking the Grand Beach, or dine-in across the street in the caffé. Either way, you will be served food made using fresh, local ingredients.
Just out for a stroll? They have hand crafted gelato, freshly made granita and smoothies as well.
Check them out on Instagram.
Corso delle Repubbliche Marinare, 37/38
84011 Amalfi (SA)
tel. 089 871 047
Email: info@bargrancaffeamalfi.it
Facebook Page