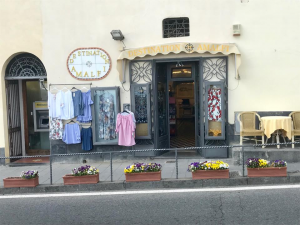 Destination Amalfi is a clothing boutique in Amalfi, Italy which is owned by my cousin. It is next door to the Gran Caffe, another family-owned business. Shop here for high quality Italian made clothing, jewelry, and purses.
Say hello to my cousin Giuseppe Dipino and his son Daniele. There is a waiting area for husbands at Gran Caffe across the road, overlooking the beach, with beer, wine, panini, pizza and snacks so ladies, take your time shopping.
Check out Gran Cafe Amalfi on Instagram.
The waiting area for husbands.